EMO is on the way, OKE invites you to share the grand event!
---
---
EMO is on the way, OKE invites you to share the grand event!
Let the world know OKE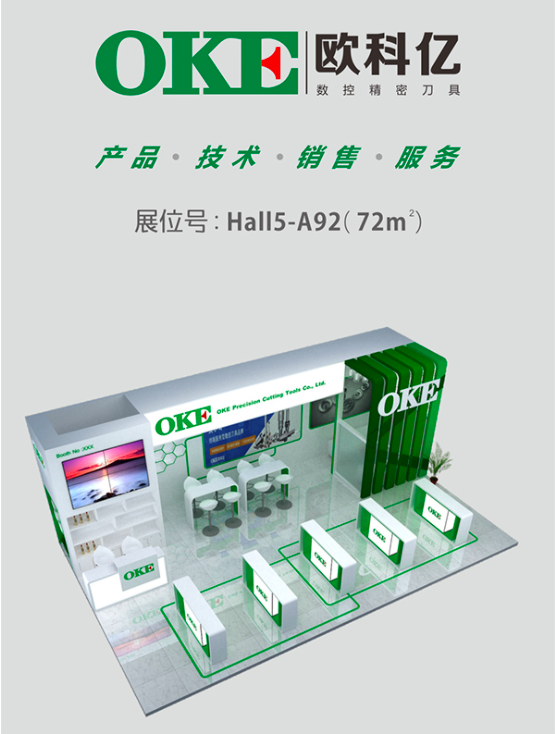 The European (Hanover) Machine Tool Exhibition (EMO) is the window of the international machine tool industry's technological dynamics, the epitome of market trends, and the barometer of value market; it is an excellent market platform for Chinese machine tool companies to reach the world.
In order to strengthen the corporate brand image and effectively meet the needs of the market, OKE participate in the event, booth number: Hall5-A92, with a 72㎡ special decoration!
EMO,OKE SHOW TIME!
Chinese sharp weapon Oriental elegant demeanour
Under the trend of global integration, going abroad and showing the awe-inspiring style of the Chinese nation, constantly breaking through ourselves and tempering a harder character in a more challenging international competitive environment is the original intention of OKE to participate in the EMO event.
We look forward to letting the world know OKE more directly,detailedly, and more truthfully, so as to establish OKE's image of the national fine inserts from the great eastern country!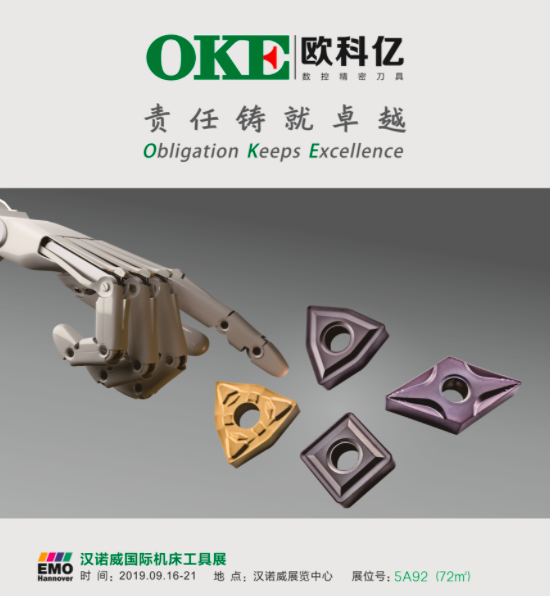 At this EMO exhibition, OKE will display a wide range of products, applicable for processing steel, stainless steel, cast iron, high-temperature alloys, aluminum alloy series, cutting and grooving, threading, milling blades, etc;covering multiple industries such as aerospace, automotive, mold, energy, rail transit, etc.
In addition, we will also display the latest industry-wide supporting processing solutions.
Special recommendation
"Fly Stream Series" Stainless Steel Products
The "Fly Stream Series" product, which was fully launched in 2019, has been proven to have superior processing performance in the field of stainless steel processing;
PDMT economical fast feed milling insert series
The PDMT economical fast feed milling insert series achieves a good cutting effect and brings more considerable production benefits to customers.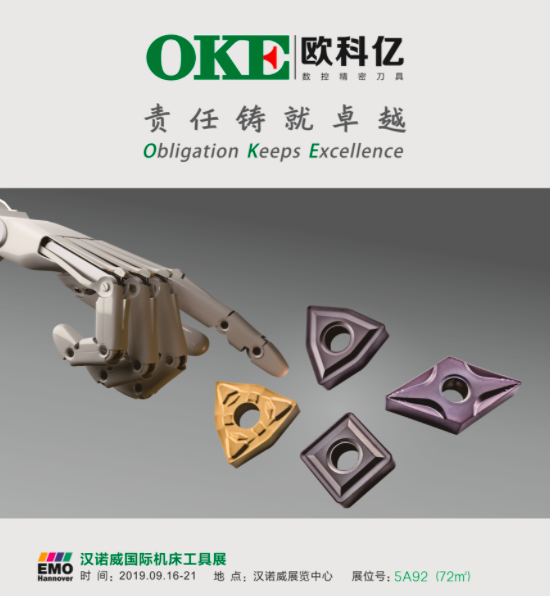 Never stop
On the road of innovation and improvement, we have never stopped-OKE tools have stable quality, strong versatility, strong economy, excellent performance, and show super wear resistance, heat resistance and shocking resistance in the overall processing.
Products, technology, sales and services are not only the theme of the 2019 EMO exhibition, but also the core elements of OKE's expansion of the broader market with a gesture of progress, development and challenge.
Perseverance
OKE will present a world-famous tool enterprise image with Chinese characteristics to the world machine tool industry with a professional attitude!
EMO is on the way, OKE invites you to share the grand event!
---
the,of,and,to,oke,emo,in,is,tool