OKE Won the "2020 Metalworking Industry - Ringier Technology Innovation Awards"
---
---
Honor moment
Ringier Technology Innovation Awards Ceremony was held in the Longemont Shanghai Hotel on 26th August, 2020. OKE star product "Flying Stream" series inserts for stainless steel processing won 2020 Metalworking Industry- Ringier Technology Innovation Awards"!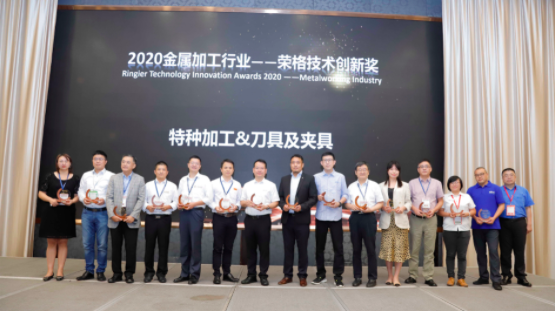 Mr. Tan Wenqing, general manager of OKE received the award
Since 2006, "Ringier Technology Innovation Awards" has attracted attention of the industry with its fair and objective selection process, and has become one of the most professional and influential industry selections in China.
As the unique domestically-made CNC cutting tool brand that won this award, Mr Tan Wenqing, the general manager of OKE, attended the award ceremony and made a speech. Mr Tan said: " The Ringier Technology Innovation Awards is an encouragement and motivation for OKE. The achievements of OKE independent innovation are recognized by experts and users! OKE's enthusiasm and dedication to research and development are remembered! In the future, OKE will continue to plough the waves, break through more technical bottlenecks, and master more comprehensive core technologies in order to realize the transformation from "Made in China" to "Created by China", from "Chinese Speed" to "Chinese Quality", from "Chinese Products" to "Chinese Brands", enhance the discourse power of domestic tools in high-end tool market home and abroad and let Chinese CNC cutting tools shine in the world!"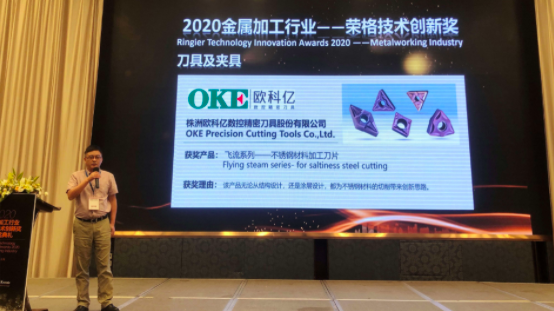 Mr. Tan Wenqing, general manager of OKE received the award
Award-winning product introduction
Flying Stream Series-Stainless steel processing inserts: further enhancing discourse power of domestic tool
Flying stream series - stainless steel processing inserts series adopt TiSiN-TiAlN multi layer nano composite coating with hardness gradient characteristics and crystal structure that has complementary advantage. Through precise process control, the Si element is used to refine the grains of the TiN layer with the Si3N4 amorphous phase to generate a nano-composite layer, achieving 40Gpa high hardness and excellent surface roughness of TiSiN layer.
Combined with a number of creative structural designs, this series of products finally exhibits wide applicability and high stability in the field of stainless steel processing, widely used in many industries such as automobiles, rail transit, aerospace, molds, medical care, and sanitary ware etc. The self-developed OP series PVD coated inserts for stainless steel have been fully demonstrated by OKE and the market, and have been widely recognized by the market, which has enhanced the discourse power of national brand cutting tools in the high-end tool market home and abroad.
2020 High-Efficiency Processing and Advanced Manufacturing Technology Development Summit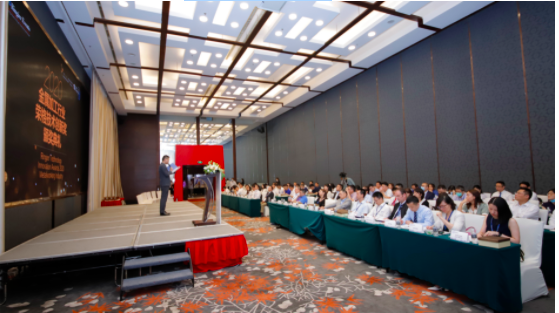 High-end manufacturing and advanced technology application conference and award ceremony scene
At the same time, in order to promote the development of the industry and help the improvement of basic manufacturing equipment and technology, OKE participated in the HPM High-Efficiency Processing Summit, and carried out practical communication with Shanghai Science and Technology Association, Shanghai Mechanical Engineering Society, Shanghai Mould Industry Association, COMAC Shanghai Aircraft Manufacturing Co., Ltd. and many other associations and business representatives. These business representatives have expressed their appreciation to OKE products and expressed their joy to the domestic tool brand! This is a confrontation of cutting-edge technology, and even a feast of the thought convergence !
Conclusion
Labor costs have increased year by year, and competition among enterprises has become increasingly fierce. Under the pressure of reducing costs and increasing efficiency, automatic transformation and upgrading has become a major trend. Throughout the world's industrial powers, they all have their own powerful tool industries and brands. If China wants to move from a big manufacturing country to a strong manufacturing country, it must also be supported by a strong tool industry. The development independent tools for stainless steel processing with high-performance and high-reliability is an important part to upgrade the industry level and our country's tool industry.
Over the past 24 years, OKE has always been adhering to the concept of "Obligation Keeps Excellence", serving the manufacturing industry, focusing on the localization of high-end CNC cutting tools and import substitution. After more than 20 years of continuous accumulation in industry segmentation, it has gradually grown into a well-known enterprise with leading technologies and first-class manufacturing equipments.
---
the,and,of,to,in,oke,technology,manufacturing,has